About Us
MoreHouse Finance Company, LLC was founded in Connecticut in 2011 by very experienced Home Improvement and Financial Services Professionals to provide reasonable interest rate loans to creditworthy homeowners who care about their homes and want to improve them.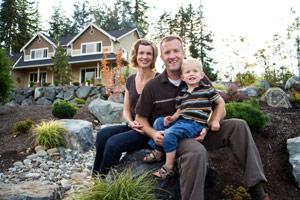 We are a responsible lender who enters into a partnership with the homeowner asking them to invest at least 20% of the project value while lending the remaining 80%. Rates are almost always lower than other home improvement finance companies. We commit ourselves to a simple, friendly and efficient application and payment process to keep our costs low allowing us to offer you low interest rates.
The Company has more than 300 direct dealer contacts and provides convenient installment financing solutions to their customers. We specialize in assisting homeowners who want to improve their home by investing in the repair or finishing of basement, crawl space, structural repair or energy efficiency projects through our dealer partners.
President, Larry Janesky - Larry is a well known entrepreneur, published author of multiple books, business expert, and world class public speaker. Having began as a 17-year-old self-employed carpenter, in 1982 he built 23 homes, and then set out on a two-decade trek to develop into the industry-leaders in basement finishing, foundation repair, crawl space repair, and home energy savings.
The noted success and influence of Mr. Janesky and his TEAM Basement Systems, Foundation Supportworks and Total Basement Finishing Companies play a pivotal role in the development and growth of MoreHouse Finance. Each dealer is an independently owned contractor, providing services to homeowners in their local area.
Mr. Janesky's published work includes a daily inspiration message entitled, Think Daily; and most recent book, The Highest Calling, has received national recognition being named the best business book of 2010 by Small Business Trends.com and at the New England Book Festival. He himself was also named Greater New Haven Business Person of the Year in 2009.
CEO, Zenon Olbrys - Zenon has over 25 years of experience is the financial services sector in USA, Russia, Poland and Baltic Countries. For over 15 years, he has held leadership position in banks, finance, and insurance companies. He received his start in the Banc One Corporation (now JP Morgan Chase) Executive Development Program. He holds a BS in Accounting from CCSU, an MBA in Finance from Ohio State University, an AMP from Oxford University and Post-Masters Certificate from Ashridge University, both in the United Kingdom.
MoreHouse Finance Company, LLC
25 Progress Avenue
Seymour, CT 06483